Vaginal Birth after Cesarean (VBAC)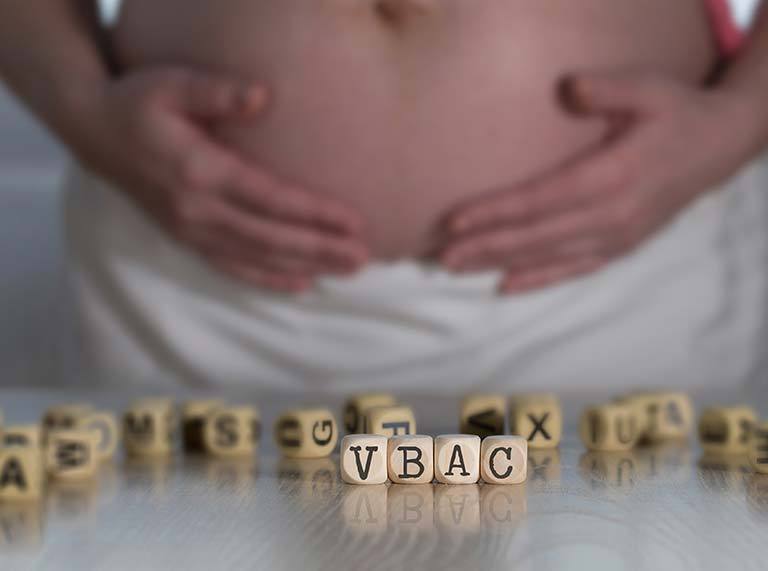 Having an emergency cesarean is often a traumatic experience and many choose to attempt a vaginal delivery in subsequent pregnancies ("vaginal birth after cesarean" or VBAC). This can be successful in the majority of women, but has risks that must be understood and respected in order for safe vaginal delivery to occur.
Our philosophy is that most patients who have had one prior low transverse cesarean, and some who have had two prior cesareans, are potential candidates for a trial of labor, but that this option is not the safest choice for everyone. The physicians evaluate all candidates for VBAC at least twice during the pregnancy to determine their prognosis using one of the "VBAC success predictor" algorithms available.
The main predictor for success is the onset of spontaneous labor with a "favorable" exam, which of course cannot be determined before labor starts.
Those who wish to have a trial of labor after previous cesarean may delay delivery until 41 weeks if they wish. We rarely feel it's advisable to postpone delivery past this stage, but handle each case individually, taking risks and benefits into account.
Midwife care with 24-hour physician backup has been demonstrated to decrease cesarean rates.
We welcome consults early in the pregnancy for those who do not necessarily want to transfer their care to our practice, but who are interested in an unbiased assessment of their prognosis for a successful VBAC.