Certified Nurse Midwives
Hibiscus Women's Center has six Mid Wives that are also Advanced Nurse Practitioners.
---
Anette Ferrell, MSN, APRN, CNM
Anette Ferrell provides expertise in the areas of gynecology and high-risk obstetrics. She enjoys working with special populations including adolescents, menopause, and polycystic ovarian syndrome. She performs routine screening exams, gynecology care as well as providing patients with nutritional counselling and diabetes education in pregnancy.
Anette received her B.S. in Nursing from Florida International University and her M.S. in Nursing with a specialization in Nurse-Midwifery at the University of Florida, College of Nursing, graduating with honors. She is fluent in both English and Spanish. She joined Hibiscus Women's Center in 2009 and was promoted to Head Midwife in 2014. Anette enjoys an active lifestyle on the Space Coast with her four children.
Kathleen Johnson, MSN, APRN, CNM
Kathleen Johnson joined Hibiscus Women's Center in January 2014. She graduated from The University of Florida in 1996 with a Master's degree in Nursing with a specialization in Nurse-Midwifery. She has worked in a variety of setting including birth centers, clinics and private practices. She brings a wealth of knowledge and experience to our practice.
Kathleen was born and raised in the Melbourne area. She has 3 children, 3 grandchildren and a husband of 40 years.
Renee Hoyle, MSN, APRN, CNM
Renee Hoyle joined Hibiscus Women's Centers' team of delivery CNM in 2018. She received her MSN from Frontier University an AMCB accreditation in 2018. Prior to coming on board with Hibiscus Women's Center, Renee' cared for patients as a Labor and Delivery Nurse at Holmes Regional Medical Center for 12 years. She describes assisting in welcoming your little one into the world ,"as an honor and a privilege". Renee' specializes in prenatal, delivery and post-natal care of OB patients, and GYN contraceptive counseling and preventative care for reproductive age women.
Renee' is a New York native and a proud mother of two.
Michelle Liddy, MSN, APRN, CNM
Michelle Liddy is a CNM with 21years experience. She recently moved from Basking Ridge, NJ where she was in private practice. She received her MSN from University of Pennsylvania and was certified as a CNM in 1997. She specializes in well woman gynecology for women of all ages and has extensive high risk obstetrical experience. As our only provider at Hibiscus that only sees patients in the office she is available 5 days a week. She also see patients during our evening hours on Wednesday.
In her down time Michelle loves to travel to see her two daughters who are attending Penn State University.
Elizabeth Eason MSN, APRN, CNM
Elizabeth Eason graduated summa cum laud from Florida State University in 1989 with a B.S. in Nursing. She received her M.S in Nursing from the University of Florida in 1997. She has extensive experience as an independent nurse practitioner and midwife in the Brevard County area and has extensive experience as a nurse educator.
Elizabeth joined Hibiscus Women's Center in early 2011. She had delivered babies Brevard County for 25 years and has now limited her practice to office obstetrics and gynecology since 2016. She is available for routine and problem gynecology visits and provides particular expertise for patients contemplating pregnancy. Elizabeth enjoys providing care and education to adolescent patients.
Elizabeth is also the medical director for Tabitha's House, an orphanage in Haiti and travels there several time a year.
Ann Pollard Moore, BSN, RN, CNM
Ann has been practicing full scope nurse midwifery for over 20 years. She became a nurse in order to become a CNM, graduating from Berea College School of Nursing, Berea KY in 1988. After working at a stroke rehabilitation facility and then home health, she became a Labor and Delivery nurse at Frontier Nursing Service, Hyden, KY. After graduating from Frontier Nursing University (formerly known as FSMFN) in 1997, she became a Certified Nurse Midwife.
Ann had a private practice for several years which included a home birth practice among the Mennonite communities in Eastern Kentucky. In 2004 she joined a group practice of OB/ GYN's and midwives. During her career in Kentucky she also served as a preceptor for many nurse midwife and nurse practitioner students.
She moved to Florida in 2005 and where she worked at the Community Health Center in St. Lucie County. Ann joined Hibiscus Women's Center in October 2017. This is the first midwifery practice she has worked. "I feel like I have come full circle".
In her spare time Ann enjoys the Florida weather, reading, cycling and she volunteers at the Daily Bread Kitchen and Habitat for Humanity.
Roxanna Cueto-Alvarez, MSN, ARNP, CNM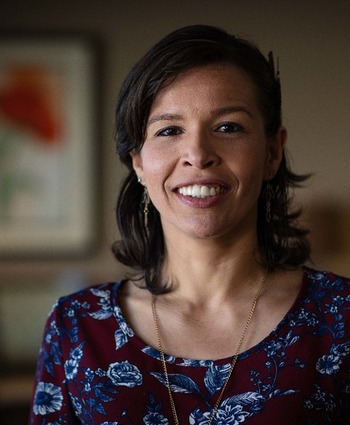 Roxanna Cueto-Alvarez, MSN, APRN, CNM
Roxanna joined Hibiscus in December of 2015. She received her Nurse-Midwife/MPH degree from the University of Puerto Rico Medical Science Campus in 2006. She moved to Florida in 2007 and practiced in south Florida before joining Hibiscus Women's Center. Roxanna specializes in well woman care from puberty and childbearing age. Roxanna is bilingual and is able to serve the Spanish speaking population as well. She loves delivering babies.
Roxanna is the mother of three children.