Summer Massage Special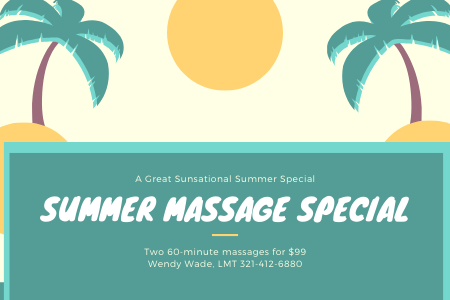 SUMMER MASSAGE SPECIAL
Did you know that we have an in-house massage therapist at Hibiscus Women's Center? Wendy does all her massages in our office and is certified in prenatal massages along with deep tissue, relaxation and more. Next time you have an appointment call Wendy and have a massage right before or after. If you are having a difficult time with the kids being home and helping them learn virtually take some time for yourself and relax with a massage.
Wendy is doing a great special for the summer- Two 60-minute massage treatments for only $99
Choose from deep tissue, relaxation, prenatal, neuromuscular, or fusion just right for you.
Hope to get you relaxed soon.
Wendy Wade, LMT
321-412-6880
MA80458