Live Virtual Childbirth And Baby Care Classes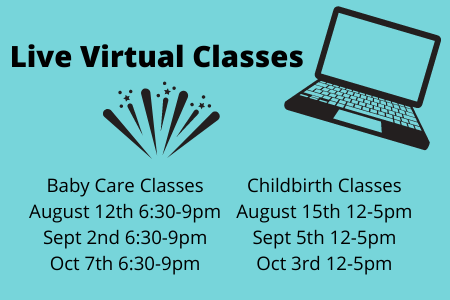 Properly preparing for the birth of your baby starts with planning and purposeful study, especially during these times of extreme caution and uncertainty. Because we want to keep our patients informed and up to date, we have moved all our classes to a virtual setting!
Virtual Courses - These classes are LIVE, INTERACTIVE,RELEVANT, and ENGAGING! They are not pre-recorded, andthe content is the same as our in-person courses. You'll beable to talk with our educator, interact with attendees, and getyour questions answered.Since these classes are virtual, you can invite your pregnantfriends to join you (no matter where they live)! Before yourclass starts, you can pick up or we will mail you ourcurriculum.
Childbirth - Learn how the labor/birth process works, how tocope with the challenges of labor, breathing and comforttechniques, what your pain relief options are, inductions,cesareans, and postpartum recovery. We will also review up-to-date COVID-19 precautions and hospital policies.
Baby Care - Learn about feeding techniques and options,newborn appearances, proper hygiene, umbilical cord andcircumcision care, calming techniques, establishing healthysleep habits, tips on navigating through the "Baby Blues" andhow to help understand your baby's needs.
Child Birth Classes
August 15th from 12pm to 5pm
August 29th from 12pm to 5pm
September 5th from 12pm to 5pm
September 19th from 12pm to 5pm
October 3rd from 12pm to 5pm
October 17th from 12pm to 5pm
November 7th from 12pm to 5pm
November 21st from 12pm to 5pm
December 13th from 12pm to 5pm
Baby Care Classes
August 12th from 6:30pm to 9pm
August 19th from 6:30pm to 9pm
September 2nd from 6:30pm to 9pm
September 16th from 6:30pm to 9pm
October 7th from 6:30pm to 9pm
October 21st from 6:30pm to 9pm
November 10th from 6:30pm to 9pm
November 18th from 6:30pm to 9pm
December 9thh from 6:30pm to 9pm
December 16th from 6:30pm to 9pm
Call 724-2229 ex 220 to sign up